Our Recipes
If you ever attended one of our workshops, you most likely made something to take home. Here you can find some of our recipes if you wanted to try them at home for yourself!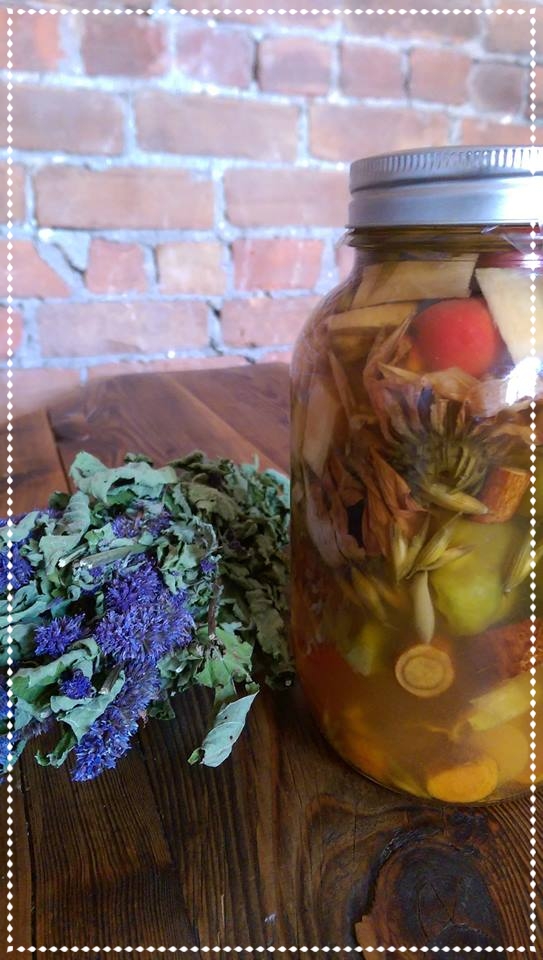 Fire Cider
This Winter elixir is great to get the blood circulating and the heart pumping before leaving the house on a cold day. Take 1-2 teaspoons of this a day for when you need a little fortification against the wind and snow or when you start to feel the beginning of a cold or flu. Add to salads and soups for an extra kick!
Ingredients: Apple Cider Vinegar, Ginger, Garlic, Onion, Horse Radish, Chili Peppers. These are the main ingredients, experiment with adding Echinacea root, Burdock root, Thyme, Sage or Rosehips for extra minerals, vitamins and immune system boosting properties. Experiment with any herbs you have to hand!
Method
Roughly chop all of your ingredients and place in a glass jar.
Fill to the top with apple cider vinegar. Aim for a ratio of 1/3 ingredients to 2/3 apple cider vinegar
Allow the vinegar to infuse for 1-2 months in a shady place.
Strain the ingredients and bottle. Enjoy at your own pleasure! This will keep up to one year. You can add honey to sweeten the taste but then it should be refrigerated.
DISCLAIMER: Content on this site is not a substitute for professional medical or healthcare advice, diagnosis, treatment, dietary, or safety advice, and may not be used for such purposes. Always seek the advice of your physician or other qualified expert with any questions you may have regarding a medical question, condition, or safety concern. Reliance on information presented on this site is at your own risk.